Mommy Makeover in Nashville, TN
A mommy makeover is a combination of surgical procedures to restore the shape and appearance of a woman's body after pregnancy, weight loss, or aging have caused unwanted changes.
The choice of procedures in your mommy makeover is yours to make, in consultation with your plastic surgeon, to address your particular cosmetic concerns. Depending on your needs, a mommy makeover can flatten and firm your abdomen, remove stubborn pockets of fat, reshape your breasts, and smooth and tighten loose skin. 
To learn how a mommy makeover can be customized for you, contact Nashville Plastic Surgery today to schedule a consultation with Dr. Michael Cash Dr. Cash is board certified from the American Board of Plastic Surgery. He has the training and expertise to perform complex reconstructive surgery and customized cosmetic procedures with remarkably natural-looking results.
Why Choose Dr. Cash for A Mommy Makeover?
Your choice of mommy makeover surgeon is the most important decision you'll make in the process. Experience with the procedures to be performed is crucial. Always choose a surgeon who is board-certified through the American Board of Plastic Surgery (ABPS), which is the only valid board certification for a plastic surgeon. Dr. Cash has earned certification from the ABPS and the American Board of Surgery (for his other medical work). 
Choose a surgeon who listens and whose results demonstrate a flexible and customized approach. A skilled surgeon will tailor the details of each cosmetic procedure to your unique needs and desires. As one of the best mommy makeover surgeons in Nashville, Dr. Cash will spend time with you to understand the results you hope to achieve. He'll explain what you should realistically expect, plus the risks and costs. Always treating everyone with respect and attention, Dr. Cash equips his patients with the knowledge they need to make decisions confidently.
What Is a Mommy Makeover?
There is no fixed set of procedures in a mommy makeover. Yours might include one, two, or all three of these. Your mommy makeover might also include other procedures, such as:
Your mommy makeover might include facial rejuvenation with dermal fillers, Botox, or a chemical peel. It might include fat transfer, injecting some of the fat removed with liposuction into a place where you need more volume. A mommy makeover is a set of surgical procedures combined to give your body younger and more toned and attractive contours. The selection of procedures will be made in consultation with Dr. Cash. The plastic surgery procedures most often included in a mommy makeover are:
A tummy tuck (abdominoplasty) to flatten, smooth, and firm your abdomen. A tummy tuck removes excess skin and fat to rejuvenate a saggy or flabby midsection. If needed, separated abdominal muscles will be reconnected to pull in a bulging belly.
Breast surgery to lift and reshape your breasts to correct sagging and drooping (breast lift). Breast surgery can also change the size of your breasts, either reducing them (breast reduction) or enhancing them (breast augmentation with breast implants or transferred fat) to bring them into balance with your other features.
Liposuction to remove excess fat where it has accumulated in unwanted pockets that resist thinning with diet and exercise. Liposuction can remove fat from your hips, thighs, buttocks, upper arms, neck, under your chin, or around your waist.
Why Might I Consider the Best Mommy Makeover in Nashville?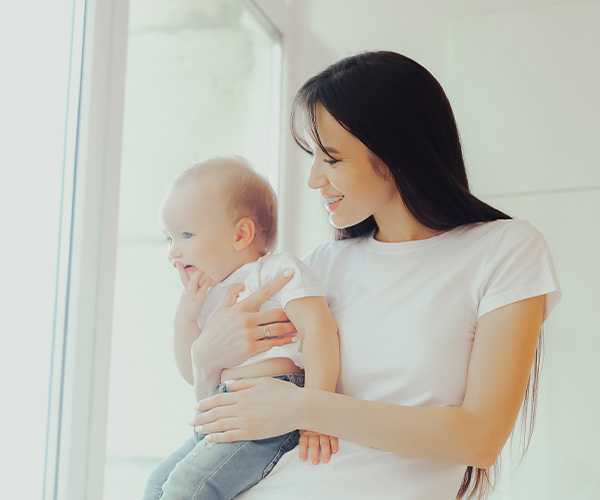 You may consider mommy makeover surgery if you are unhappy with the appearance of your body after pregnancy, weight loss, or the changes of aging. Mommy makeovers can:
A mommy makeover can also include surgery or non-surgical treatments to reverse signs of facial aging. 
The changes made in a mommy makeover can make you look younger, fitter, and more attractive. That transformation can make you feel better about your body, your appearance, and yourself.
View our mommy makeover before-and-after photo gallery to see the improvements Dr. Cash has helped his patients realize. 
At Nashville Plastic Surgery, our mission is to treat you with the utmost respect, help you make an educated decision, and provide you with the finest medical services in a safe and professional environment.
Am I a Good Candidate for a Mommy Makeover Procedure?
Note that body contouring procedures, including tummy tuck and liposuction, are not substitutes for weight loss with healthy eating and exercise habits. For optimal and long-lasting results, wait to have a mommy makeover until you are at a healthy weight and your weight has remained stable for several months. Because another pregnancy can change your body again, it's usually best to wait until you have finished having children before having a mommy makeover. 
Dr. Cash can tell you if you are a good candidate for a mommy makeover in your consultation. You may be a good candidate for the procedure if you:
Planning Your Mommy Makeover
Your mommy makeover at Nashville Plastic Surgery starts with a consultation with Dr. Cash. He will examine you, ask questions to learn your medical history and understand your goals, listen to your concerns, and answer your questions. 
When he has a full understanding of your wishes, he will recommend a combination of procedures or treatments and a surgical approach that will give you the results you want with the least risk. He will describe what the procedures entail, their risks and cost, and what you can expect in recovery as you heal from the surgery. 
Dr. Cash's goal in every cosmetic surgery is to produce the most natural-looking results with the least discomfort and lowest level of risk for the patient.
What to Expect During Mommy Makeover Recovery
You'll need some time for rest and recovery at home after your surgery. How much time and the extent to which you'll need to limit your activities will depend on what procedures you have. If a tummy tuck is included in your mommy makeover, you should plan to take about two weeks off from work or longer if your job requires lifting or strenuous activity. 
You should expect to experience some discomfort in the first few days, which you can manage with pain medication. You may also experience some swelling and bruising in the treated area. You'll likely need some help with ordinary household tasks for the first few days. Dr. Cash will provide you with detailed instructions on:
Schedule Your Nashville Mommy Makeover Consultation Today
Contact Nashville Plastic Surgery online or by calling (615) 454-2271 to schedule a consultation for a mommy makeover with Dr. Cash. He will examine you, ask questions to understand your goals, and give his recommendations for the safest and most effective approach. Patients in metro Nashville and throughout middle Tennessee choose Dr. Cash as their cosmetic surgeon because of his ability to create stunning results and the caring attention he and his staff provide.